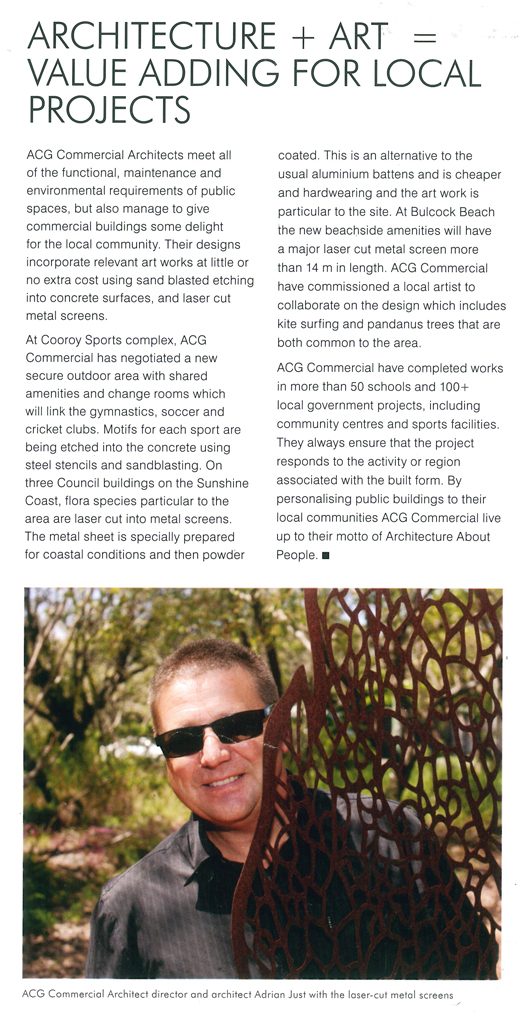 ACG Commercial Architects meet all of the functional, maintenance and environmental requirements of public spaces, but also manage to give commercial buildings some delight for the local community.
Their designs incorporate relevant art works at little or no extra cost using sand blasted etching into concrete surfaces, and laser cut metal screens.
At Cooroy Sports complex, ACG Commercial have negotiated a new secure outdoor area with shared amenities and change rooms which will link the gymnastics, soccer and cricket clubs. Motifs for each sport are being etched into the concrete using steel stencils and sandblasting.
On three Council buildings on the Sunshine Coast, flora species particular to the area are laser cut into metal screens. The metal sheet is specially prepared for coastal conditions and then powder coated. This is an alternative to the usual aluminium battens and is cheaper and hard wearing; and the art work is particular to the site.
At Bulcock Beach the new beachside amenities will have a major laser cut metal screen over 14 metres in length. ACG Commercial have commissioned a local artist to collaborate on the design which includes kite surfing and pandanus trees that are both common to the area.
ACG Commercial have completed works in over 50 schools and 100+ local government projects, including community centres and sports facilities.
They always ensure that the project responds to the activity or region associated with the built form.
By personalising public buildings to their local communities ACG Commercial live up to their motto of Architecture About People.