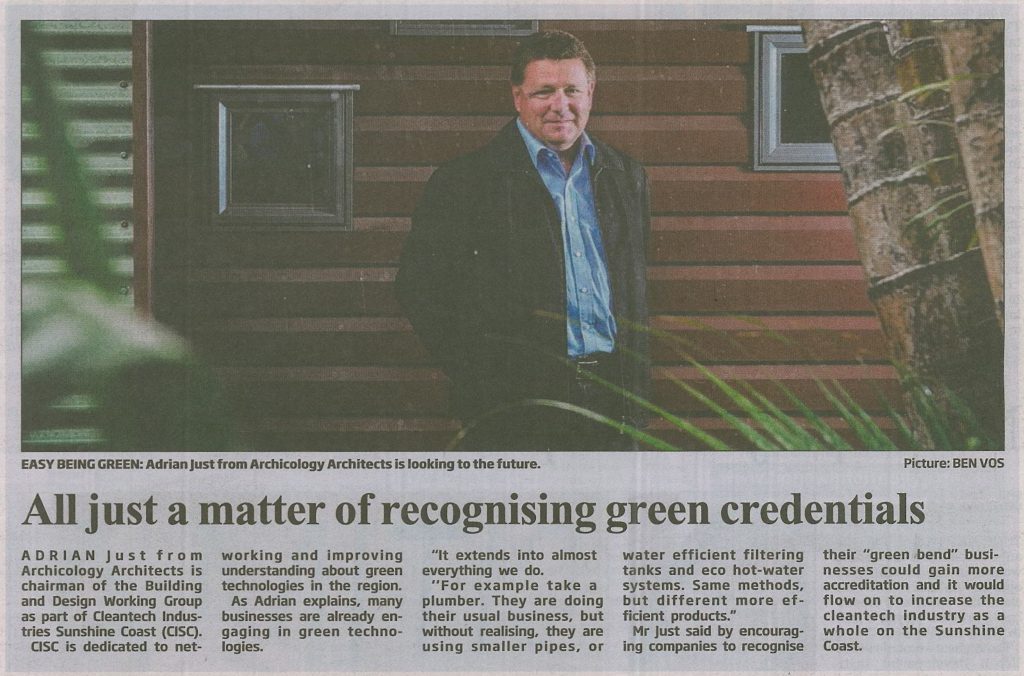 Article in the Noosa Journal June 1st 2011
All just a matter of recognising green credentials

ADRIAN Just from Archicology Architects is chairman of the Building and Design Working Group as part of Cleantech Industries Sunshine Coast (CISC).
CISC is dedicated to networking and improving understanding about green technologies in the region.
As Adrian explains, many businesses are already engaging in green technologies.
"It extends into almost everything we do."
"For example take a plumber. They are doing their usual business, but without realising, they are using smaller pipes, or water efficient filtering tanks and eco hot-water systems. Same methods, but different more efficient products."
Mr Just said by encouraging companies to recognise their "green bend" businesses could gain more accreditation and it would flow on to increase the Cleantech industry as a whole on the Sunshine Coast.
Cleantech welcomes new champion

ONE of the Coast's newest residents is contributing to the growing Cleantech market, recently identified by council as one of our seven high-value industry sectors.
Tony limes, of Sustainable Directions, says he was attracted to the Sunshine Coast because of the supportive council, a lifestyle which supports his business ethos and easy access to the local airport.
His Coolum-based company offers sustainability training and helps businesses achieve environmental credentials.
"It was important for me to choose a location where the Cleantech industry was recognised for its immense potential and where the local-council was supportive of nurturing and attracting businesses within this field," Mr Innes said.
"We spent a great deal of time scouring the east coast
for a suitable base after establishing the business in South Australia, and we were very impressed by both Cleantech Industries Sunshine Coast and the local government support."
Cleantech Industries Sun-shine Coast president, Coolum architect Adrian Just, said Mr Innes's relocation to the Coast proved the council had picked a winner by nominating Cleantech industries as a growth area.
"We are delighted to welcome Sustainable Directions as a new member. If we can continue to attract businesses of this calibre to the region, it is an investment for our future, and positive for the Sunshine Coast business community as a whole," Mr Just said.
Cleantech Industries Sunshine Coast is forming alliances with more than 20 other industry associations and groups.
NEW MEMBER: Tony Innes (left) and president of Cleantech Industries Sunshine Coast, Adrian Just. PHOTO: CONTRIBUTED