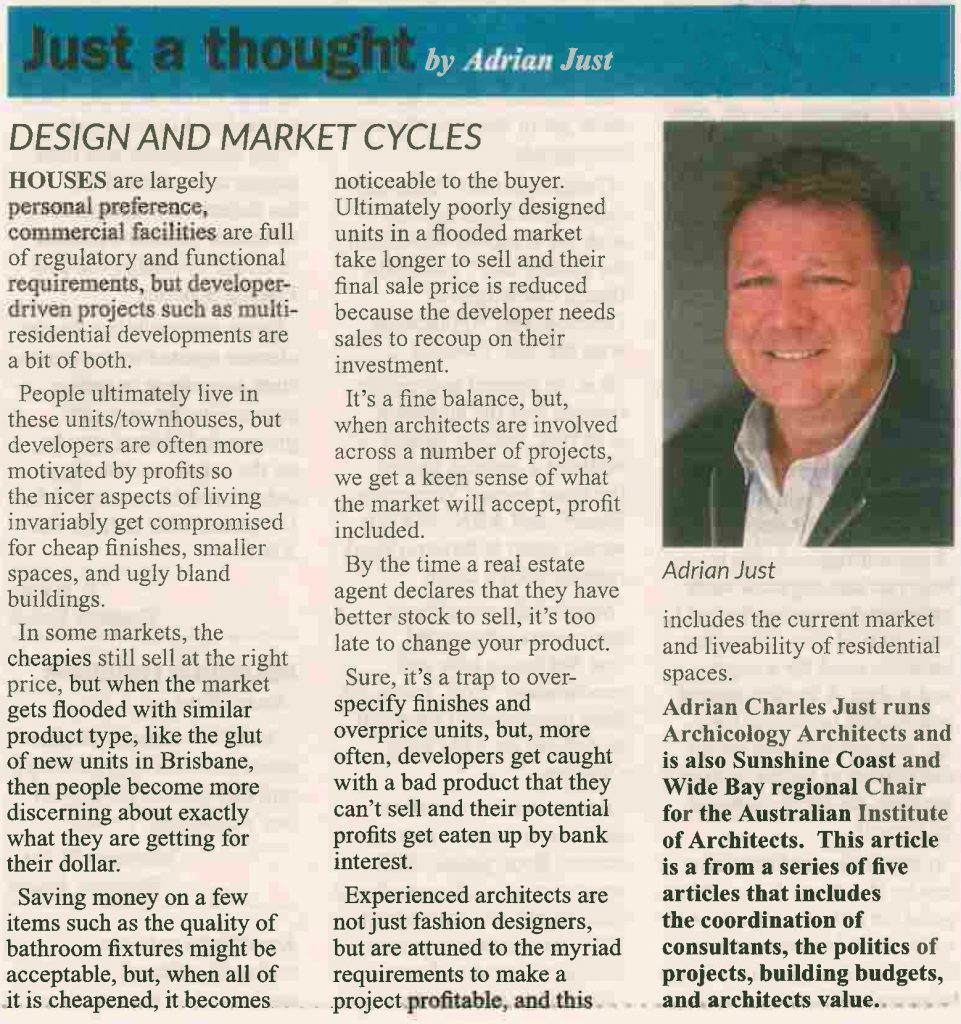 DESIGN AND MARKET CYCLES
HOUSES are largely personal preference, commercial facilities are full of regulatory and functional requirements, but developer-driven projects such as multi-residential developments are a bit of both.
People ultimately live in these units/townhouses, but developers are often more motivated by profits so the nicer aspects of living invariably get compromised for cheap finishes, smaller spaces, and ugly bland buildings.
In some markets, the cheapies still sell at the right price, but when the market gets flooded with similar product type, like the glut of new units in Brisbane, then people become more discerning about exactly what they are getting for their dollar.
Saving money on a few items such as the quality of bathroom fixtures might be acceptable, but, when all of it is cheapened, it becomes noticeable to the buyer.
Ultimately poorly designed units in a flooded market take longer to sell and their final sale price is reduced because the developer needs sales to recoup on their investment.
It's a fine balance, but, when architects are involved across a number of projects, we get a keen sense of what the market will accept, profit included.
By the time a real estate agent declares that they have better stock to sell, it's too late to change your product.
Sure, it's a trap to over-specify finishes and overprice units, but, more often, developers get caught with a bad product that they can't sell and their potential profits get eaten up by bank interest.
Experienced architects are not just fashion designers, but are attuned to the myriad requirements to make a project profitable, and this includes the current market and liveability of residential spaces.
Adrian Charles Just runs Archicology Architects and is also Sunshine Coast and Wide Bay regional Chair for the Australian Institute of Architects. This article is a from a series of five articles that includes the coordination of consultants, the politics of projects, building budgets, and architects value.