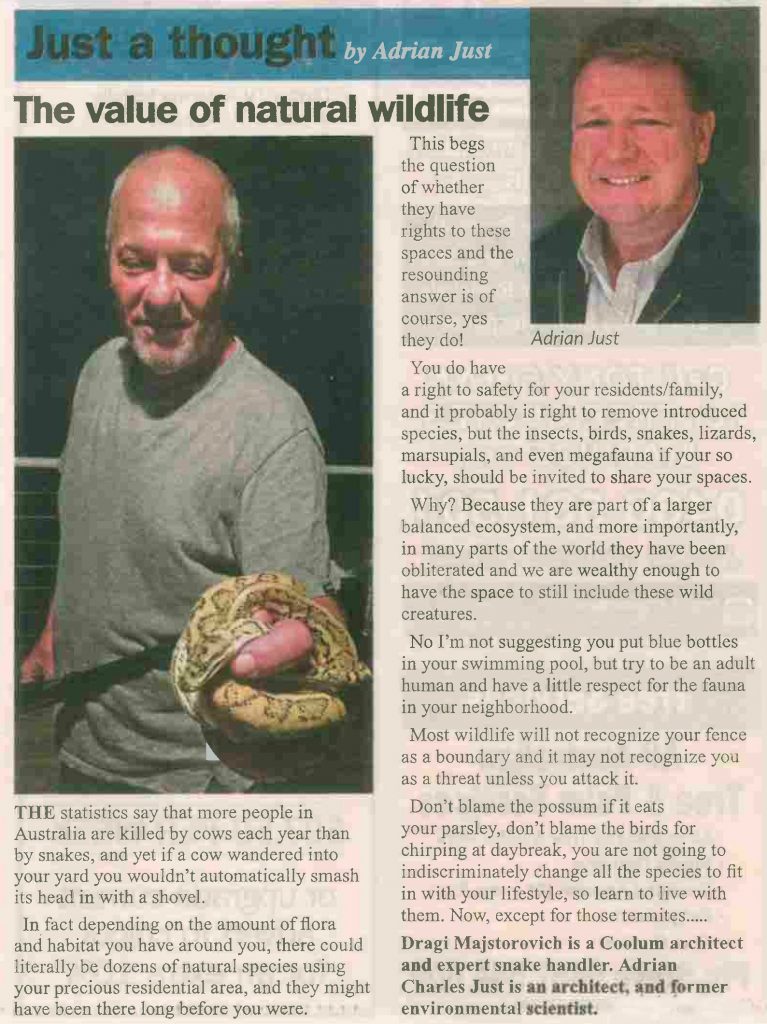 The statistics say that more people in Australia are killed by cows each year than by snakes, and yet if a cow wandered into your yard you wouldn't automatically smash its head in with a shovel.
In fact depending on the amount of flora and habitat you have around you, there could literally be dozens of natural species using your precious residential area, and they might have been there long before you were.
This begs the question of whether they have rights to these spaces and the resounding answer is of course, yes they do!
You do have a right to safety for your residents/family, and it probably is right to remove introduced species, but the insects, birds, snakes, lizards, marsupials, and even megafauna if your so lucky, should be invited to share your spaces.
Why? Because they are part of a larger balanced ecosystem, and more importantly, in many parts of the world they have been obliterated and we are wealthy enough to have the space to still include these wild creatures.
No I'm not suggesting you put blue bottles in your swimming pool, but try to be an adult human and have a little respect for the fauna in your neighborhood.
Most wildlife will not recognize your fence as a boundary and it may not recognize you as a threat unless you attack it.
Don't blame the possum if it eats your parsley, don't blame the birds for chirping at daybreak, you are not going to indiscriminately change all the species to fit in with your lifestyle, so learn to live with them. Now, except for those termites…..
Dragi Mastorovich is a Coolum architect and snake handler. Adrian Charles Just is an architect, and former environmental scientist.