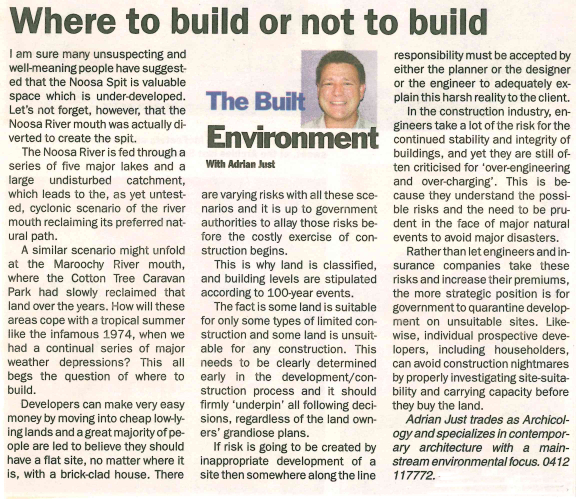 I am sure many unsuspecting and well meaning people have suggested that the Noosa spit is valuable space which is under developed. Lets not forget however that the Noosa river mouth was actually diverted to create the spit.
The Noosa river is fed through a series of 5 major lakes and a large undisturbed catchment, which leads to the, as yet untested, cyclonic scenario of the river mouth reclaiming its preferred natural path.
A similar scenario might unfold at the Maroochy river mouth, where the cottontree caravan park had slowly reclaimed that land over the years. How will these areas cope with a tropical summer like the infamous 1974, when we had a continual series of major weather depressions? The rivers may very quickly reclaim these areas back with a few cyclones. This all begs the question of where to build.
Developers can make very easy money by moving into cheap low lying lands and a great majority of people are led to believe they should have a flat site, no matter where it is, with a brick clad house. There are varying risks with all these scenarios and it is up to government authorities to allay those risks before the costly exercise of construction begins.
This is why land is classified, and building levels are stipulated according to 100 year events.
The fact is some land is suitable for only some types of limited construction and some land is unsuitable for any construction. This needs to be clearly determined early in the development/construction process and it should firmly 'underpin' all following decisions, regardless of the land owners grandiose plans.
If risk is going to be created by inappropriate development of a site then somewhere along the line responsibility must be accepted by either the planner or the designer or the engineer to adequately explain this harsh reality to the client.
In the construction industry engineers take a lot of the risk for the continued stability and integrity of buildings, and yet they are still often criticised for 'over engineering and over charging'. This is because they understand the possible risks and the need to be prudent in the face of major natural events to avoid there becoming major disasters.
Rather than let engineers and insurance companies take these risks and increase their premiums, the more strategic position is for government to quarantine development on unsuitable sites. Likewise, individual prospective developers, including householders, can avoid construction nightmares by properly investigating site suitability and carrying capacity before they buy the land.