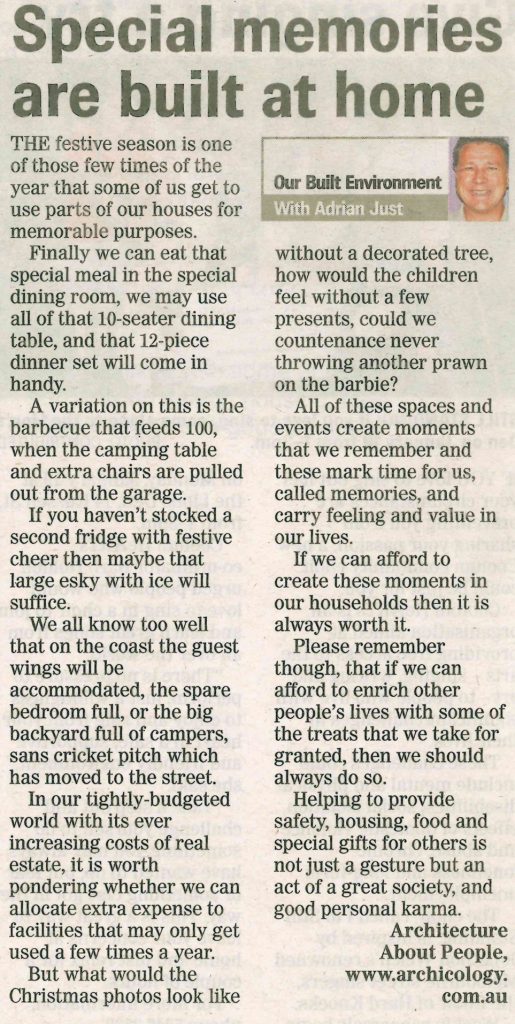 THE festive season is one of those few times of the year that some of us get to use parts of our houses for memorable purposes.
Finally we can eat that special meal in the special dining room, we may use all of that 10-seater dining table, and that 12-piece dinner set will come in handy.
A variation on this is the barbecue that feeds 100, when the camping table and extra chairs are pulled out from the garage.
If you haven't stocked a second fridge with festive cheer then maybe that large esky with ice will suffice.
We all know too well that on the coast the guest wings will be accommodated, the spare bedroom full, or the big backyard full of campers, sans cricket pitch which has moved to the street.
In our tightly-budgeted world with its ever increasing costs of real estate, it is worth pondering whether we can allocate extra expense to facilities that may only get used a few times a year.
But what would the Christmas photos look like without a decorated tree, how would the children feel without a few presents, could we countenance never throwing another prawn on the barbie?
All of these spaces and events create moments that we remember and these mark time for us, called memories, and carry feeling and value in our lives.
If we can afford to create these moments in our households then it is always worth it.
Please remember though, that if we can afford to enrich other people's lives with some of the treats that we take for granted, then we should always do so.
Helping to provide safety, housing, food and special gifts for others is not just a gesture but an act of a great society, and good personal karma.